| | |
| --- | --- |
| Comic Con 2008 - Preview Night July 23 | |
Written by David Pena
Wednesday, 23 July 2008 21:48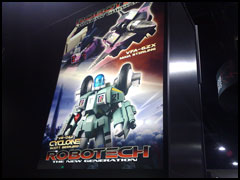 Insane best describes Comic Con 2008 Preview Night. If you didn't know any better, you would think Preview Night was Saturday night. It was mega-crowded as usual and if this is a sign of things to come in the next few days, it is ALWAYS going to be packed.
For the fortunate many that purchased their passes early enough, picking up their badge in the beginning was a bit of a wait. The lines twirled around all the way to the bay with no end in sight. After about an hour-and-a-half wait, the staff recognized that there was a bog in the lines and quickly reacted. Within 15 minutes the lines moved as fast as possible. Once inside the convention center, staffed worked even faster at printing out the badges and getting everyone settled.
Finally once inside so many booths, so little time. Granted this was only preview night and the biggest event of the night revolved around the Fringe Pilot Screenings. The Toynami booth was not quite ready as the crew was still setting up the display.
IMAGES OF PREVIEW NIGHT
Remember that tomorrow Thursday July 24, 2008 the Robotech Industry Panel will be held at 6:45pm PST in room and log back on to RobotechX for another update.
ROBOTECH EVENTS AND EXHIBITS

6:45PM-7:45PM ROBOTECH INDUSTRY PANELl— Tommy Yune, director of Robotech: The Shadow Chronicles, covers the history of the animated series that introduced a generation to anime and discusses upcoming new releases in the wake of the announcement of the live-action feature film. Room 6B
TOYNAMI ROBOTECH DISPLAY
Exhibit Hall 3229
ROBOTECHX FAN BOOTH
Mezzanine MZ08
MORE INFO
Official Comic Con Website for events and schedules
Discuss this topic on the forums
Comments
(3)
Subscribe to this comment's feed
Memo
wrote on
July 24, 2008
Title: ...

hehehe

i spent my time at the exibit regestration. by 6pm, i walked in the hall with my exibit passes. man it was packed.

and sad thing is, my cell phone dont work in san diego for some odd reason. found a hotel at 90 dlrs a night here in san ysidro. they have openings.

ok, i regestered again becouse they needed more paperwork from me. and went to the toynami booth right after. i saw they were not set up yet and even at 9pm, they were still setting up. their booth grew in size and is not no longer in the place that it used to be. its more centered on the exibit floor.

the couse was lot of exibitors deliverys were delayed by the con. so manny were still setting up.

since i am an exibitor, i can stay way late. and was able to take pics of the toynami booth when they were setting up the alphas. ready for shipping in 3 months at 160dlrs a pop. and check the thread for pictures.

right after i went to the robotech fan booth. and just kicked back and answered live action questions and shadow rising questions. the fanbooth is in the mezzaline are. right bellow where the robotech panel will be.

so far, i have big ideas for next year. hehehe
Lobizon
wrote on
July 24, 2008
Write comment
Last Updated on Wednesday, 10 August 2011 12:05