Details

Written by SIGHUP
Category: General
Published: 25 March 2008
Hits: 20268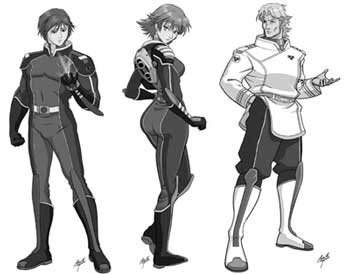 Press release from Palladium Books
Robotech® The Shadow Chronicles®
"Yep, it is done. Looks great, is at the printer, and will ship in March!
We'll let you know exactly when Robotech® The Shadow Chronicles® ships as soon as we get word from our printer, but it will be before Palladium's big move at the end of March.
Online pre-orders have already shattered the previous record for online sales by 100 copies, with more orders coming in every day! A sure sign this RPG is going to be a smash hit."
The Robotech® The Shadow Chronicles® Role-Playing Game picks up where the DVD movie begins. The return of the Robotech Expeditionary Force (REF), the separation of the SDF-3 from the rest of the fleet, the battle of Reflex Point, space combat, treachery and everything else that is part of Robotech® The Shadow Chronicles®.
Robotech® The Shadow Chronicles® is a NEW role-playing game, not a rehashed, retooled printing of the original RPG from the 1980s. Furthermore, the release of the Robotech® The Shadow Chronicles® DVD Movie, the release of the Deluxe DVD, Shadow Chronicles® Art Book, and the announcement of a Robotech® Movie in development at Warner Bros. Pictures has ramped up interest and excitement for Robotech®.
This new RPG should appeal to role-players and Robotech® fans of all generations.
Human mecha include Alphas (various), Betas (various), Cyclones (various), Bioroid Interceptor, and the Condor, plus other equipment.
Quick roll character tables and M.O.S. skill sets make character creation possible in 15-20 minutes.
O.C.C.s include the Battloid Ace, Veritech Fighter Pilot, Military Specialist, and others.
Areas of Military Specialty – M.O.S. packages provide each O.C.C. with areas of special training.
New character sheet.
New skills, O.C.C.s, mecha and action.
New text, art, information and character sheet.
Key Robotech® mecha statted out and illustrated.
Invid enemy statted out and illustrated.
The Haydonites, their mecha and more.
Adventure settings and ideas.
Fast playing RPG rules. Mega-Damage setting.
Cover by fan fave, Apollo Okamura. Great art throughout.
Written by Kevin Siembieda. Additional by text Jason Marker.
Manga size for easy portability (5x7½ inches).
300+ pages – $16.95 retail – Cat. No. 550.
March release date. At the printer.