ROBOTECH: El Año del Despegue
Lobizon

Topic Author

REF Member
Bounty Hunter! =☠=
Posts: 929
Thank you received: 4
ROBOTECH: El Año del Despegue was created by Lobizon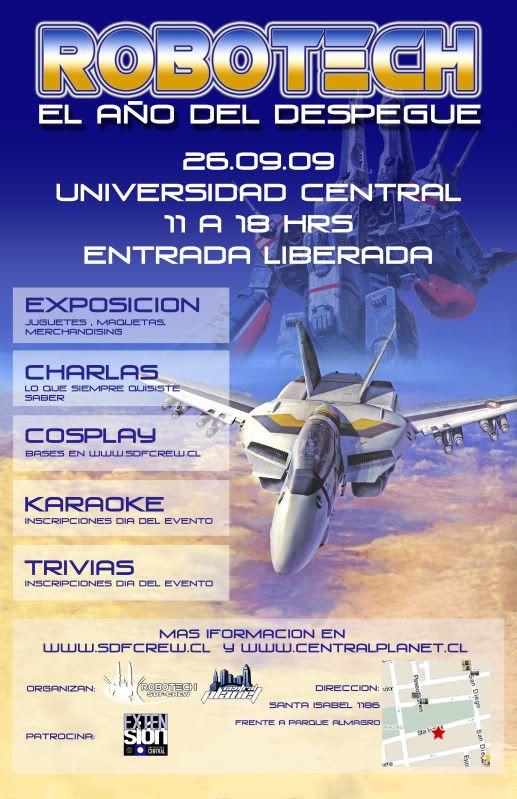 Exposición
:
Replicas, Juguetes, Maquetas y Dioramas exclusivos jamás vistos en tiendas.
Charlas
:
Fans reconocidos por el fandom internacional de Robotech expondrán las siguientes charlas:
1.- Protocultura: Todo lo relacionado con este intrigante enigma del Universo Robotech.
2.- Robotech antes del Despegue: Lo que pasó antes que empezara la serie y que hasta ahora no sabías.
3.- Merchandising de Robotech: Los productos más codiciados y extraños, más de lo que crees.
4.- La tecnología de Robotech Aplicada en la realidad: ¿Creiste que la Robotechnología era sólo fantasía? Verás que no es así.
Karaoke
:
Diviertete cantando los temas que marcaron tu infancia... Premiaremos al Mejor!!
Cosplay
:
Disfrázate y representa a algún personaje de Robotech o Macross, y gana los aplausos del público.....y algo más!
Trivias
:
Tu mamá te dijo alguna vez que no sacabas nada con ver Robotech todos los años? Es tu hora de demostrarle lo contrario!
Para más información visiten:http://www.sdfcrew.cl/|http://www.centralplanet.cl/
13 years 7 months ago
#5191
Please Log in or Create an account to join the conversation.
Time to create page: 0.339 seconds