Details

Written by SIGHUP
Category: News
Published: 02 September 2008
Hits: 13423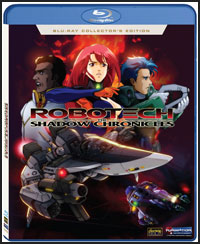 Released today is Robotech: The Shadow Chronicles Collector's Edition on Blu-Ray format.
For those with HDTVs, you can now see the SC the way it was seen when it was screened in high definition. 
Released by funimation you can buy it here.
[ Credit: Thanks to Lobizon ]
PRESS RELEASE

Definitive Collector's Edition of Awarding-winning Film Showcased in High-Definition Blu-Ray Disc™ Format

New York, NY, April 19, 2008 – FUNimation Entertainment, in collaboration with Harmony Gold, is proud to announce at this year's New York Comic Con that it is bringing another title of next generation entertainment to the next generation format with the release of Robotech: The Shadow Chronicles on Blu-ray disc.

"The Shadow Chronicles was originally produced in high-definition." said Tommy Yune, director of Robotech: The Shadow Chronicles. "That foresight is now paying off as the capabilities of Blu-ray technology will finally allow our fans to enjoy the film with that level of resolution in the comfort of their own homes."

This animated feature length film is the latest exciting chapter of the Robotech saga. A heroic cast of returning characters, led by Scott Bernard and Vince Grant, fight to end a struggle against an enigmatic alien race known as the INVID. However, the mysterious disappearance of the legendary Admiral Hunter signals the arrival of a new threat that could tear apart our young heroes and threaten their very survival!

Featuring the voices of Mark Hamill (Star Wars) and Chase Masterson (Star Trek: Deep Space Nine), the animation of Robotech: The Shadow Chronicles also takes a generational leap into the future through a technological marriage of CG graphics beautifully composited with vibrant anime characters. This release showcases the original high-definition video, enhanced with a 5.1 digital surround sound mix, and an incredible musical score performed by the Prague Philharmonic Orchestra.

Featuring the definitive catalog of extras to date, FUNimation and Harmony Gold have held nothing back as the Blu-Ray release will contain 20 minutes of new extra features along with all the extras previously released on the standard and collector's editions, including a featurette about the award-winning film's creation called "Birth of a Sequel: The Making of The Shadow Chronicles." New features include additional never-before-seen deleted scenes with directors commentary, outtakes, animatics and more.

Robotech: The Shadow Chronicles (rated PG, extras not rated) hits shelves September 2, 2008 (SRP $39.98).

###


About FUNimation Entertainment
FUNimation® Entertainment, a wholly-owned subsidiary of Navarre Corporation, is the leading company for Japanese animation in the United States. FUNimation is known for acquiring top-rated anime series from Japan and for being the market share leader for home video sales of anime in the United States. The company has a proven formula for launching and advancing brands, and manages a full spectrum of rights for most of its brands including broadcasting, licensing, production, internet, and home video sales and distribution.

About Harmony Gold
Harmony Gold has been active in the production, acquisition and distribution of quality programming worldwide since its inception in 1983, producing some of the television industry's classic and history-making programs. Visit harmonygold.com or robotech.com for additional information.

About Blu-Ray Disc
Blu-ray Disc is the next-generation optical disc format for high-definition video and high-capacity software applications. A single-layer Blu-ray Disc will hold up to 25GB of data, and a double-layer Blu-ray Disc will hold up to 50GB of data. A standard definition DVD holds less than 10GB by comparison. This greater storage capacity enables the Blu-ray Disc to store up to five times the amount of content than is possible with current DVDs, and is particularly well suited for high definition feature films with extended levels of additional bonus and interactive material. Blu-ray Disc is supported by the world's leading consumer electronics, personal computer and gaming companies.
Blu-ray Discs deliver a truly unique high-definition viewing experience with a crystal-clear 1920x1080p picture (the number "1080" represents 1,080 lines of vertical resolution, while the letter "p" stands for progressive scan) and astounding 5.1 channel surround and 48 kHz, 24-bit uncompressed audio.
Consumers will benefit from Blu-ray Disc's improvements over current DVD technology including enhanced menu navigation, increased capacity for bonus features and new interactive capabilities.

Blu-ray Disc can deliver entertainment content in full high-definition (HD), under a secure environment made possible through advanced copyright protection technology. Blu-ray Disc playback products are expected to be backward compatible with the current DVDs, allowing continued enjoyment of existing DVD collections.