Details

Written by SIGHUP
Category: News
Published: 06 May 2008
Hits: 16297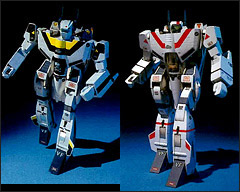 LOS ANGELES, California - Toynami announced that they will begin distributing classic 1/55-scale VF-1 transformable toys based on the original Japanese molds designed by Takatoku. These toys are highly coveted among casual fans and dedicated collectors alike for their sturdiness and rarity. and now Toynami will be bringing them around the world at affordable prices.

The VF-1 is also widely recognized by Transformers collectors as the underlying form of the original G1 Jetfire toy. This release will mark the first time that these toys will be offered officially outside of Japan under both the Robotech and Macross brands.

Toynami will begin this summer with anniversary editions of 1/55 VF-1S and VF-1J variants and continue this fall with armored VF-1A Super Valkyries as seen in Macross: Do You Remember Love. 2009 will mark the release of 1/55 Veritechs from the Robotech television series, with plans to eventually release all known 1/55 Valkyrie toys, including rare and exotic variants.