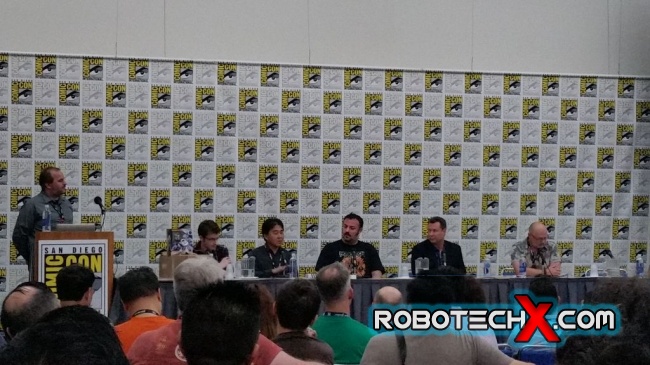 This year there was new energy at the San Diego Comic Con 2016 ROBOTECH Panel. With new people and products introduced, it seems like Harmony Gold is moving things along quite nicely.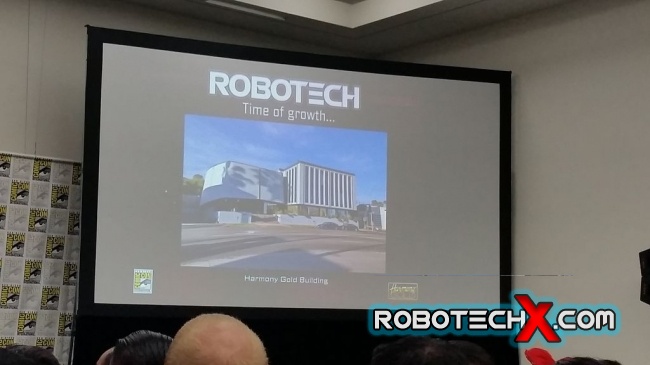 The Panel begins a little different than previous ones. Kevin McKeever as enthusiastic as ever -- perhaps with the aid of some energy drinks or a lot of coffee, give the man credit the panel started late 8:30pm -- encourages the audience attending to live-blog, live-tweet and even live-stream everything that is presented before them. This is a welcome change as it looks like Harmony Gold is realizing the importance social media plays and how if its going to be posted somewhere anyway, it might as well be them "allowing it." Everyone attending also received a free Roboech poster.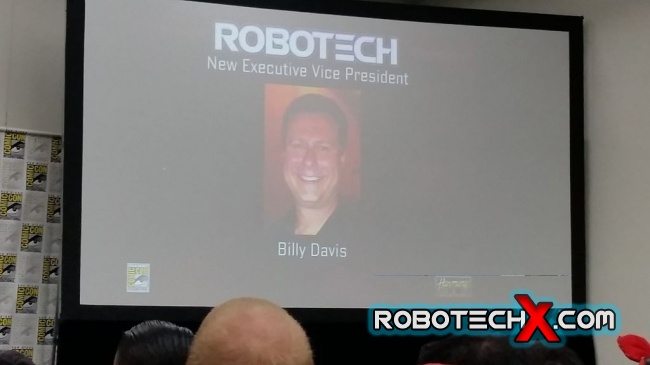 Billy Davis who has a long history working with ROBOTECH is introduced as the New Executive Vice President of HG. If you met the guy at the panel or at the RobotechX Fan Table, you may realize that this is where this new found energy is coming from. The charismatic VP has worked at Intersound Studios as an executive during Robotech projects. He will now oversee future franchise growth. 
A quick ROBOTECH Live-Action update reveals that the script is in its final draft stages, also a video update message by Gianni Nunnari and Mark Canton was shown addressing the attendees on the progress of movie and their enthusiasm for creating a ROBOTECH film that will please its fan-base.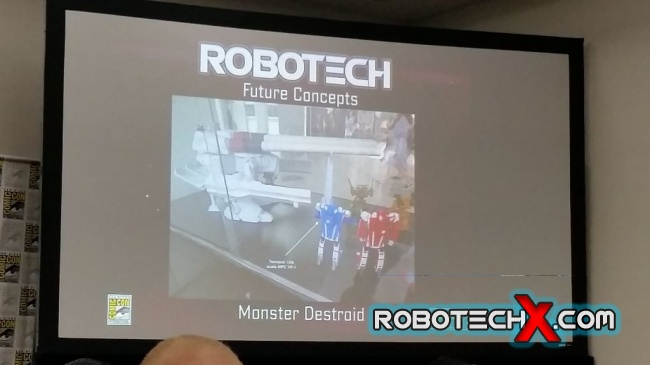 The Future Concepts portion of the panel reveals a Monster Destroid is in the works.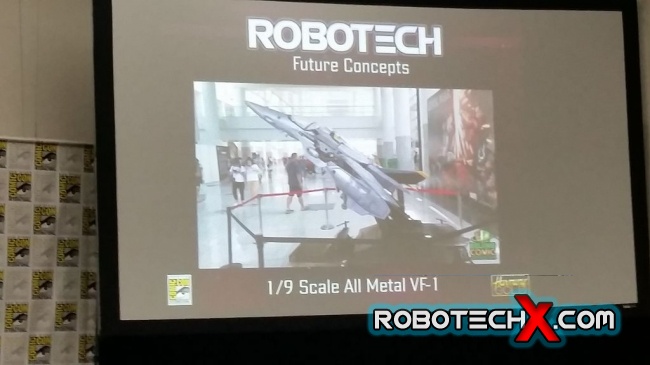 Now check this out. A 1/9 Scale ALL METAL VF-1! How amazing is this thing?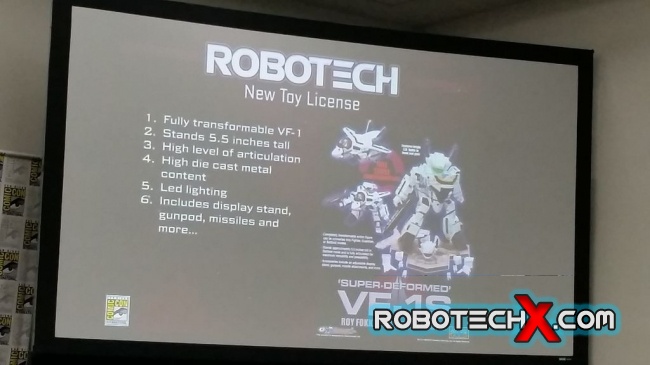 New toy license with KITZCONCEPTS brings Super Deformed VF-1S available in August outside of China exclusively through Robotech.com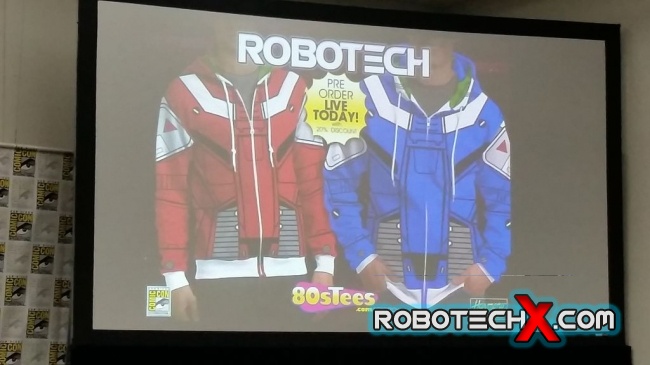 Some of you may have not heard of 80sTees.com which carry a wide range of Robotech shirts and hoodies. Right now there is 20% promotional discount on Robotech products. Get them fast because they are selling out. https://www.80stees.com/robotech Gary Gorzach from 80s Tees answered fan questions regarding possible shirts like Ben Dixon T-shirts. His reply was that anything was possible.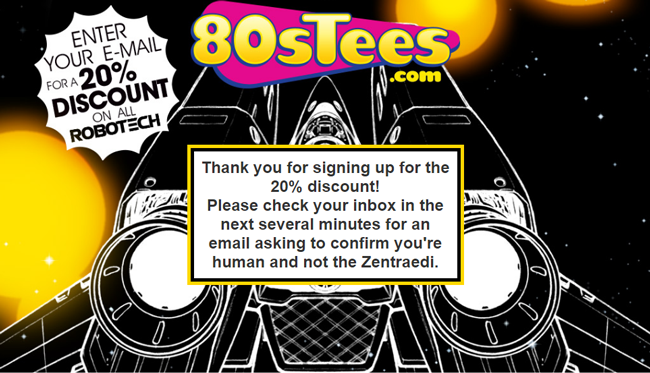 Nice touch! When you sign up you get this nifty little message asking to confirm your email.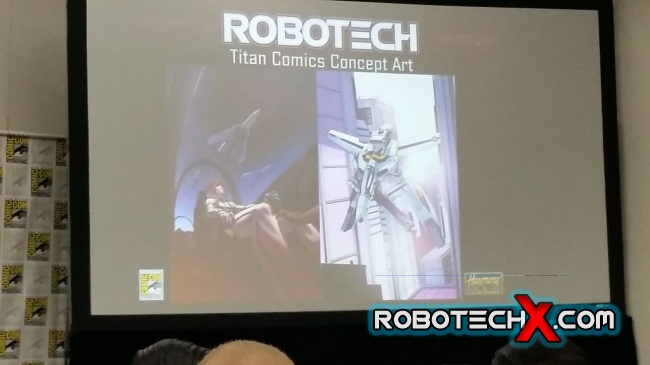 RT's old comic license has died and expired which means Titan Comics picks up a new license and plans on working on new comics while re-releasing old comics both in digital and paper format. New concept art shown.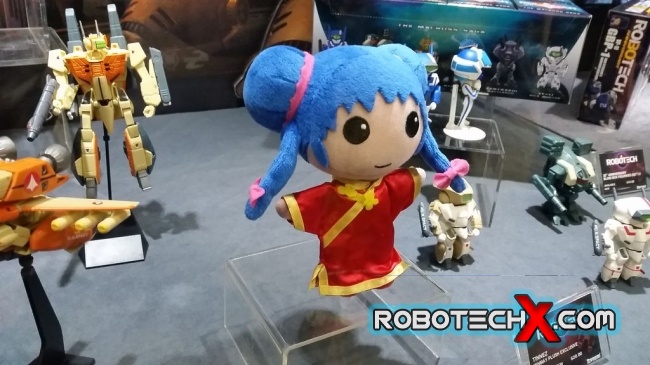 Toynami came out with their Super VF-1D Trainer as a convention exclusive as well as the Minmay Plush Doll limited to 1000 units.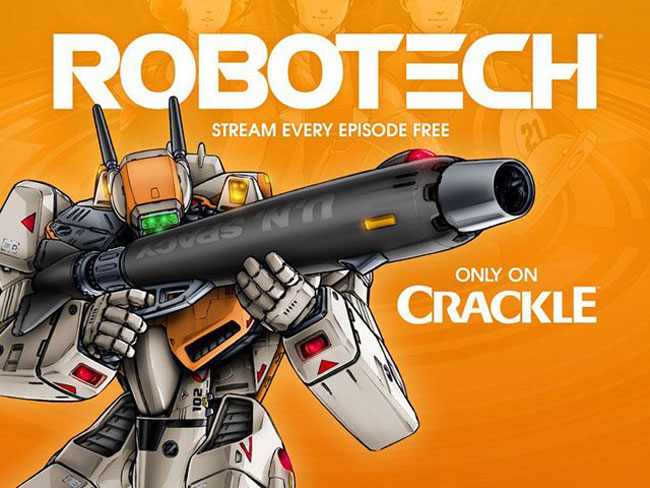 Robotech on CRACKLE available to stream for FREE! Currently Robotech is the #1 anime title and consistently is in the top ten shows overall. A fan during Q&A asked why the show wasn't available on Netflix. The answer: because its FREE on Crackle! 
Fans eagerly lining up to ask their questions to the panel members. Towards the end of the queue fans had had an answer in the previous questions so they had to quickly improvise a new question or comment. Robotech fans think alike it seems. Fans did bring up a few interesting questions.
Fan Q&A Brief Summary
Will ROBOTECH ever be available on BluRay?
Not likely. The original material is on film and is in very very poor condition. The process would not be a simple one since it would be a full on film restoration project which will be very expensive. 
No comment at this time on any questions regarding content of the Live-Action movie
Harmony Gold at this point cannot say anything in regards to the Movie. 
 Steve Yun and Billy Davis pose with hardcore Robotech fans after the panel. 
There is still one more day left of San Diego Comic Con 2016. Stop by the RobotechX Fan Table and say hello.