General News
Details

Written by

SIGHUP

Category: News
Hits: 13351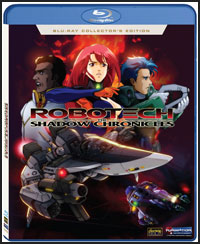 Released today is Robotech: The Shadow Chronicles Collector's Edition on Blu-Ray format.
For those with HDTVs, you can now see the SC the way it was seen when it was screened in high definition. 
Released by funimation you can buy it here.
[ Credit: Thanks to Lobizon ]
Details

Written by

SIGHUP

Category: News
Hits: 10344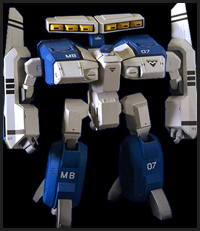 Well look at this. Finally, the Toynami Beta Fighter Vol 1 that fans have been dreaming about is ready for
PRE-ORDER
at the ROBOTECH.COM store website. This is the latest in the Toynami Robotech Masterpiece Collection series, the Beta Fighter.
The unit is designed to link up with the Masterpiece Alpha Fighter. With limited production to only 10,000 pieces, if you are a hardcore fan and must have this, you don't want to miss out and PRE-oRDER today.
Price: $149.99
Shipping: October/November 2008

Details

Written by

SIGHUP

Category: News
Hits: 6548
The Chinese language editions of the Robotech comics from Wildstorm are now officially being distributed by Chinese publisher
Xinhua Wenxuan Press
. Xinhua Wenxuan Press recently announced the release of Wildstorm's Robotech Comics in Mainland China. The Chinese version comics will be released in TPB form, and this means the official Robotech comics first land in China.These new comics are tentatively scheduled for release in the summer.
For more Info link to:
Robotech Union @ China
[ Thanks to Lobizon for the heads up! ]

Details

Written by

SIGHUP

Category: News
Hits: 16703
Anime Expo

2008
Robotech
by Bamboo Dong, Jul 5th 2008
Panelists:
Tommy Yune
,
Steve Yun
,
Kevin McKeever
Despite the early start time, the Robotech panel was very well-attended. Tommy Yune started the presentation by giving a quick overview of the franchise's history, even showing old motion capture footage from the forgotten CGI flop, Robotech 3000. He then talked about the recent Robotech revival in the last few years, with the relaunch of the series on DVD, followed by last year's movie,
Robotech: The Shadow Chronicles which is coming out on Blu-Ray later this year
. He also covered a few other Robotech branded products, like
Palladium Books' line of role playing games, and Del Rey's collection of novels
.
The series will also be re-broadcast around the world.

Canada's SPACE channel

is airing all 85 episodes, as well as the Shadow Chronicles film.

RETRO TV(Argentina and Mexico) and CANAL 13 (Paraguay)

will be showing the series in Spanish in Latin America. Meanwhile,

Star TV

will be airing Shadow Chronicles across Asia
.
As for other products, new toys and models are being made, notably a Mospeada and a VF-1. Some of the figures are still in beta, but may be ready by San Diego Comic Con
.
Yune ended his presentation with some information about the proposed live-action Robotech movie. He confirmed that Warner Brothers is planning it, and that Tobey Maguire is involved. The script is beng written by Lawrence Kasdan, whose credits include Raiders of the Lost Ark, The Empire Strikes Back, and The Bodyguard.
The movie is planned as a re-imagining of the Robotech universe, and will take place in the future
(Is that official? )
.
During the question and answer section, Yune said that they were planning on taking Robotech: Shadow Rising, the sequel to Shadow Chronicles, in a new direction because of new opportunities brought about by the live-action movie. Although it was originally planned as a straight-to-home-video release, they are considering other media
.
Souces liks:
A.N.N.com
, Text in
RED
links from RT.com articles, text in
PURPLE
link from RT
X
.com forum discussion and text in
Yellow
OMG!!!!!!!!!! ( I think they talking about the RLAM goes to base on
The Shadow Chronicles
or something
)
Details

Written by

SIGHUP

Category: News
Hits: 38188

Here is a short summary of Chris Meadows' Space Station Liberty podcast last week, where the definitive word came on the future of the Shadow Rising postponement fiasco. For the complete podcast visit http://terrania.us/liberty where you can download or stream the podcast.
Read more: "Shadow Rising is NOT canceled and is NOT postponed!" - PART II
Subcategories
News about the website. Updates, new features, announcements and more.