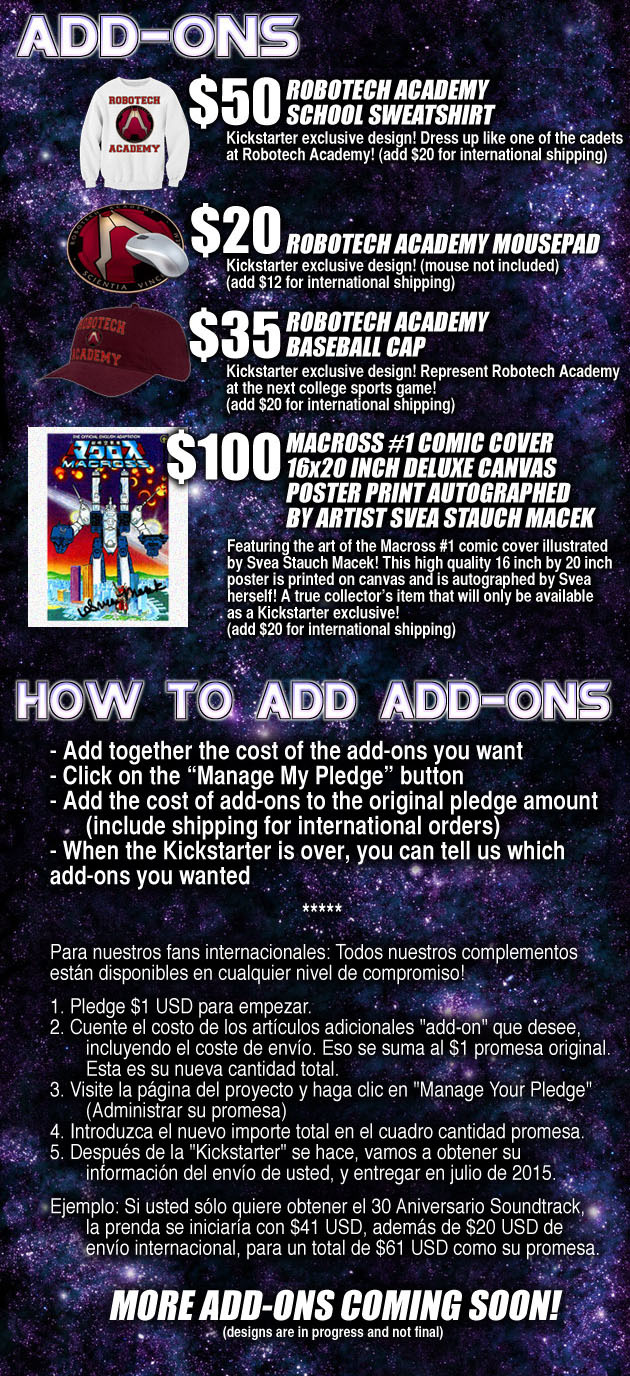 More updates from the Robotech Academy Kickstarter Project. Imagine if the powers at be did these many updates toward the franchise. They'd have dozens of new episodes complete. In any case, Update #15 includes Robotech Academy sweatshirts, baseball caps, mousepads and Svea Macek authographed posters.
For international fans: 
Para nuestros fans internacionales: Todos nuestros complementos están disponibles en cualquier nivel de compromiso!

1. Pledge $1 USD para empezar. 2. Cuente el costo de los artículos adicionales "add-on" que desee, incluyendo el coste de envío. Eso se suma al $1 promesa original. Esta es su nueva cantidad total. 3. Visite la página del proyecto y haga clic en "Manage Your Pledge" (Administrar su promesa) 4. Introduzca el nuevo importe total en el cuadro cantidad promesa. 5. Después de la "Kickstarter" se hace, vamos a obtener su información del envío de usted, y entregar en julio de 2015.

Ejemplo: Si usted sólo quiere obtener el 30 º Aniversario Soundtrack, la prenda se iniciaría con $41 USD, además de $20 USD de envío internacional, para un total de $61 USD como su promesa.
By international fans, they must mean the Spanish-speaking Robotech community. Not to rain on the parade but it seems the longer one waits to pledge, the more cool stuff they come out with. Have you pledged your dollar?