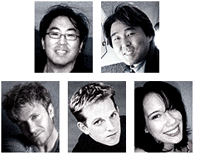 The inexhaustible 2008 Robotech Convention tours takes over Denver in Colorado's largest anime convention: Nan Desu Kan, which will be held September 12th to 14th. 
Spearheading the tour as usual is Creative Director of Harmony Gold Tommy Yune with writer and Robotech.com webmaster Steve Yun. The Macross English-dub voice actors Vic Mignogna (Ichijo Hikaru), Chris Patton (Maximilian Jenius) and Monica Rial (Hayase Misa) will also make an appearance 
So fans, get ready with your enthusiasm and your cameras and make this a success! Don't forget to talk about it in the forums.
As released on Robotech.com:
The 2008 Robotech Convention Tour makes a stop in the mile high city of Denver for Nan Desu Kan, Colorado's largest anime convention. Nan Desu Kan, which will be held from September 12th to 14th, has assembled an all star guest line up, including Robotech: The Shadow Chronicles writer Steve Yun and director Tommy Yune along with Macross English dub voice actors Vic Mignogna (Hikaru Ichijo), Chris Patton (Maximilian Jenius) and Monica Rial (Misa Hayase) for a weekend full of panels, workshops, giveaways and the world famous Giant Robot Rumble!


LOCATION & ACCOMMODATIONS:



Denver Marriott Tech Center


4900 S. Syracuse Street




Denver, Colorado 80237




303-779-1100







To get the discounted price for hotel rooms, enter the code

NDKNDKA on the Marriott website, or provide it to the Marriott reservations representative over the phone.




AT-THE-DOOR REGISTRATION:



For those who did not pre-register by August 15th, on-site admission can be purchased at the following rates:



$50 –

Full weekend (all 3 days)


$25 –

Friday only


$25 –

Saturday only


$20 –

Sunday only






ROBOTECH COLLECTORS BOOTH:





Be sure to stop by this special display to check out various Robotech collectibles made over the franchise's history and get a chance to meet the Robotech crew!






ROBOTECH EVENTS:



•

Saturday, September 13th

•





1pm – THE GIANT ROBOT RUMBLE


Remember when you were in elementary school and you argued with your friends about whether Voltron or Optimus Prime would win in a fight? Well, prepare for the mother of all nerdy panels as Robotech.com's Steve Yun hosts a tournament where panelists and attendees argue and vote over which robots would win such a bout. Sixteen robots will enter the arena, but only one will emerge as the victor!





3pm – ROBOTECH: THE COLLECTORS PANEL


Join the co-founder of Robotech Museum with the Harmony Gold staff as they showcase the good, bad, and the outrageously funny of Robotech merchandising through the decades.





4pm – ROBOTECH: PAST, PRESENT, & FUTURE
Tommy Yune, director of Robotech: The Shadow Chronicles, covers the history of the animated series that introduced a generation to anime, and also discusses upcoming new releases in the wake of the announcement of the live action feature film.





•

Sunday, September 14th

•





11am - ROBOTECH: FREE-FOR-ALL


Did you miss the previous panels? Still have last-minute questions about the past, present or future of Robotech? Here is your chance to get them answered!





1pm – ROBOTECH FAN LUNCHEON


An informal gathering of the Robotech fans and crew!






MORE INFORMATION:



Visit Nan Desu Kan's official website



Discuss Nan Desu Kan in the event forum



Check out the list of other cities from the 2008 Robotech Convention Tour