General News
Details

Written by

SIGHUP

Category: News
Hits: 4438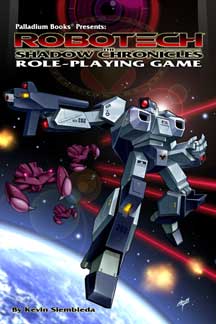 The BIG news is Robotech® The Shadow Chronicles® RPG shipped to distributors Thursday, March 20, and should be hitting store shelves around April third. We had so many mail orders (several hundred) that it took us two days to ship them all. A hundred or so went out Thursday, with the rest, a few hundred more, shipping out Friday. Seven of us, including the Palladium crew, intern, Margaret Hailey, and pal, Josh Hilden, in town to help with the prep for Palladium's big move, boxed and packed books till 8:30 Thursday night so we could get everyone's books out to them as quickly as possible.
Those of you who ordered books via UPS and Priority Mail will get them next week. Those of you who ordered via Media Mail will need to remain patient. Media Mail is extremely unreliable and may take a few days to arrive for some and as long as three weeks for others. Hopefully, most of you will get it in only a week or two.
So what's the initial reaction? Folks are loving it. Comments have included things such as. "Wow, it looks fantastic." "I didn't think I'd like the small size, but I do. It's comfortable." "I love the cover and interior art." "I can't believe how much new material is present, but you keep the Robotech® feel I remember." "When are sourcebooks coming out? I want more!"
Those are exactly the reactions we were all hoping for, and we think most of you will agree. Please let us know what you think.
The Robotech® The Shadow Chronicles® Role-Playing Game picks up where the DVD movie begins. The return of the United Earth Expeditionary Force (UEEF), the separation of the SDF-3 from the rest of the fleet, the battle of Reflex Point, space combat, treachery and everything else that is part of Robotech® The Shadow Chronicles®.
Read more: The Shadow Chronicles RPG Shipped - available now
Subcategories
News about the website. Updates, new features, announcements and more.