Official Robotech News
Details

Written by

SIGHUP

Category: Official Robotech News
Hits: 8181
As they advertise it on the ROBOTECH.COM website: "Get the toy your mom never bought you (or your kid brother broke)." At long last, the 1/10th scale Masterpiece Edition Scott Bernard Cylone is ready for pre-order and is scheduled to ship in December 2008.
A quick list of key features includes: Fully transformable, 7.5" tall Scott Bernard figure, fabric undersuit and increased articulation, 8.5" tall fully armored, removable heads (helmet/helmetless), removable hands (open/closed), plasma beam rifle and stand. 
click here to see more imagesMasterpiece Cyclone Vol.1 - Shipping December 2008
Details

Written by

SIGHUP

Category: Official Robotech News
Hits: 11833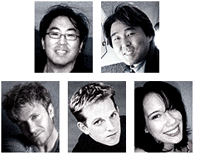 The inexhaustible 2008 Robotech Convention tours takes over Denver in Colorado's largest anime convention: Nan Desu Kan, which will be held September 12th to 14th. 
Spearheading the tour as usual is Creative Director of Harmony Gold Tommy Yune with writer and Robotech.com webmaster Steve Yun. The Macross English-dub voice actors Vic Mignogna (Ichijo Hikaru), Chris Patton (Maximilian Jenius) and Monica Rial (Hayase Misa) will also make an appearance 
So fans, get ready with your enthusiasm and your cameras and make this a success! Don't forget to talk about it in the forums.