Website News
Attention Macross fans, we are excited to announce that the new Robotech Zentraedi Light Artillery Battlepods have landed!
This is an Anime Convention (PMX Anime Convention) and during Night #1 we will have a Roast of Richard Epcar...Various VAs will be in attendance to Roast the Great Voice Actor!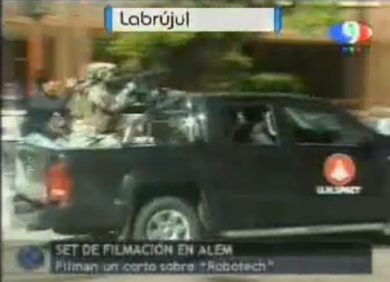 "Soldiers with almost futuristic weapons and uniforms. Vehicles in plain sight of Alem Avenue with open doors spread out in chaotic positions. What's happening in Bahia Blanca? A short is being filmed that in a short time will surely be watched all over the world with the great quality in the classic stylings of local producer Cesar Turturro." Brace yourselves Robotech fans as Cesar Turturro produces a Robotech live action short based on events that transpired in Latin America during the first Robotech chapter.
Carl Macek's Robotech Universe premiere

LOS ANGELES (October 5, 2011) — Harmony Gold will host a special screening of the new documentary Carl Macek's Robotech Universe at the Harmony Gold Preview House in Hollywood on October 17, 2011 at 8 p.m.
Michael Bradley in South America celebrating with robotech fans the 25th Anniversary of Robotech.