General News
Details

Written by

SIGHUP

Category: News
Hits: 11829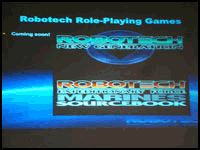 Anime Expo 2009 comes to a close today and at the Robotech Panel there were some announcements that Robotech fans will definitely enjoy.
New sourcebooks from Palladium: Robotech®: UEEF Marines Sourcebook and Robotech®: New Generation™ Sourcebook. An exclusive Comic Con 2009 VF-1S Stealth Veritech.




View images from Anime Expo 2009
Read more: New Sourcebooks and Stealth VF-1S - Robotech Panel at Anime Expo 2009
Details

Written by

SIGHUP

Category: News
Hits: 5526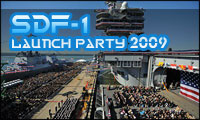 On February 28, 2009 the Southern California fandom is organizing and proud to announce the first SDF-1 Launch Party, celebrating the fictional launch of the SDF-1 of Robotech: The Macross Saga. Hope to see you there!
Details

Written by

SIGHUP

Category: News
Hits: 5462
As we all know, not hearing a peep about ROBOTECH projects is nothing new to the fandom. The Robotech Live Action Movie is no different. This time there is actually something to talk about. According to an exclusive at Mania.com "Tom Rob Smith has taken over writing duties on the project."
Discuss this article in the forums
Details

Written by

SIGHUP

Category: News
Hits: 11494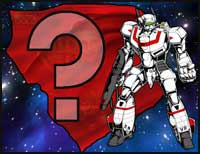 According to the Hollywood Reporter, Alfred Gough and Miles Millar (The Mummy: Tomb of the Dragon Emperor and TV's Smallville) have signed on to write the script for the upcoming Robotech Live Action Movie.
What we would like to know is what happened to Lawrence Kasdan's (Raiders of the Lost Ark and The Empire Strikes Back) draft? Did he just write the first draft? Were Gough and Millar brought on to spice things up on a more contemporary level? Will veritech fighters wear capes now? Join us as we speculate.
Discuss this topic in the forums

Subcategories
News about the website. Updates, new features, announcements and more.